Heritage Collection Hungarian Flowers Fine Art Print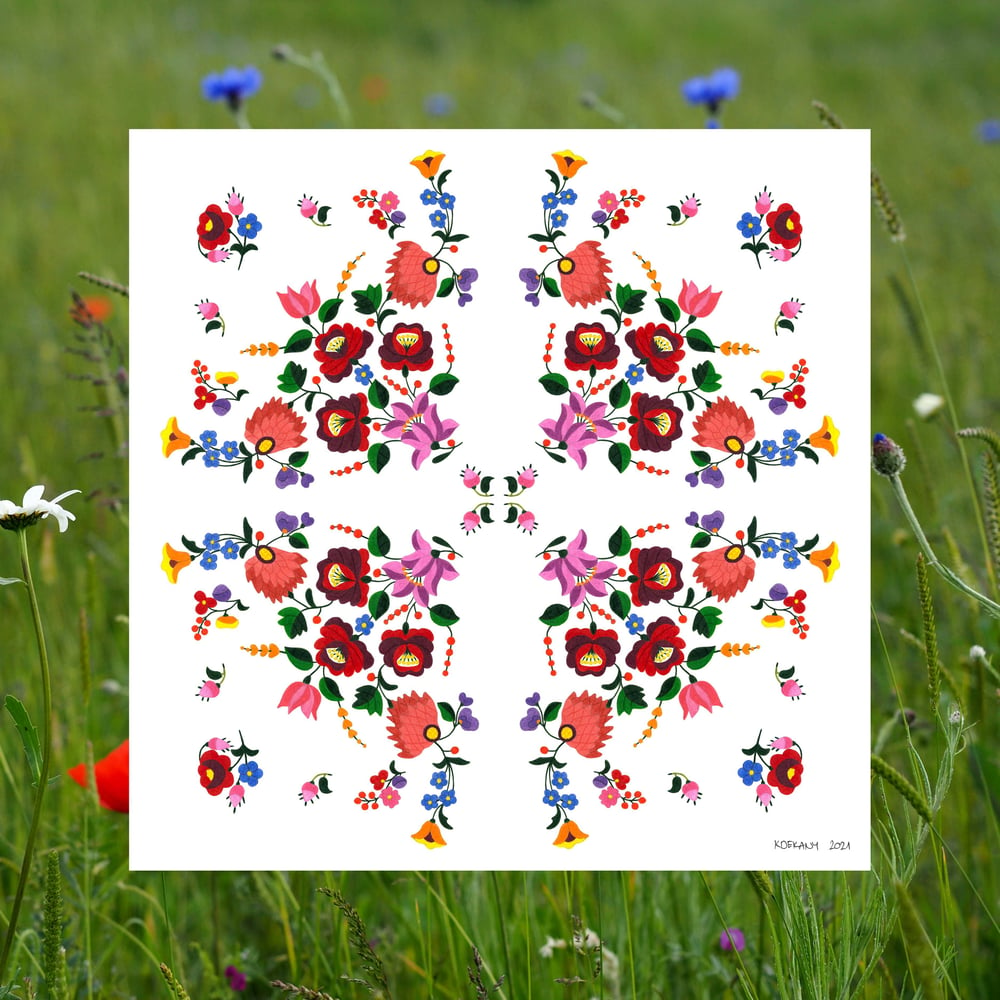 The Heritage Collection
Hungarian Folk Art Pencil illustrations by Krisztina Dekany inspired by my great grandmother's embroidery pieces.
Read the story below.
I was going through my summer wardrobe when I came across some hidden treasures, my great grandmother's embroidery that was passed down to me as a family heritage and I thought I would love to transform her embroidery into art so I created the Heritage Collection.
It's not the ordinary embroidery we are talking about, but the old traditional Hungarian folk embroidery that was passed down in the generations from the older female members of the family. Unfortunately I don't know this technique so I turn it into art instead.
These embroidery pieces I now have were made by my great grandmother about 50 years ago, some even earlier. She was born in 1916.07.01. and passed away in 2010.04.06. I will forever cherish these pieces and they are preserved as art pieces.
Brand New 2021 Edition Print. A3 / 297 x 297 mm / 11.7 x 11.7 in
PRINTS
All prints are the exact reproduction of the original artworks, you can still see the original pencil strokes. They come from a local professional printing company, printed on extra heavyweight 350 g/m2 matte paper with a fine silk touch to make it stand out.
PRINT CARE
To keep your print in its pristine condition it's best to frame it as soon as possible. Once removed from the protective sleeve, please handle at the edges only and try to avoid the ink especially the blacks. Carefully unroll and flatten your print for best results. Once it's framed please keep them away from direct sunlight as they tend to fade that way.
PREPARATION
All prints are printed on demand so please allow 2 weeks maximum to prepare your order for postage. I will of course send them out as soon as possible.
POSTAGE
All orders are sent out in postal tubes due to their sizes and most importantly for protection. This way the prints are compact, easy to post and affordable.
INTERNATIONAL ORDERS
Please allow at least 2 weeks (up to 6 weeks in rare cases) to receive your order. Customers are also responsible for customs costs (Duty Taxes). Please check these before ordering as they vary in each country, also it's illegal to send merchandise items as gifts.
FRAMING tip
For easy framing IKEA has a great range of square shape frames or the easiest is probably a vinyl record frame it's approximately the same size.
NOTES
Please note that the pencils and rocks are decoration items only. It doesn't come framed, that's an example shown in a vinyl record frame.
If you have any questions you might also find the answer in my FAQs. If not please feel free to message me.
Thanks for stepping by.