1984 The Neverending Story The Auryn Fine Art Print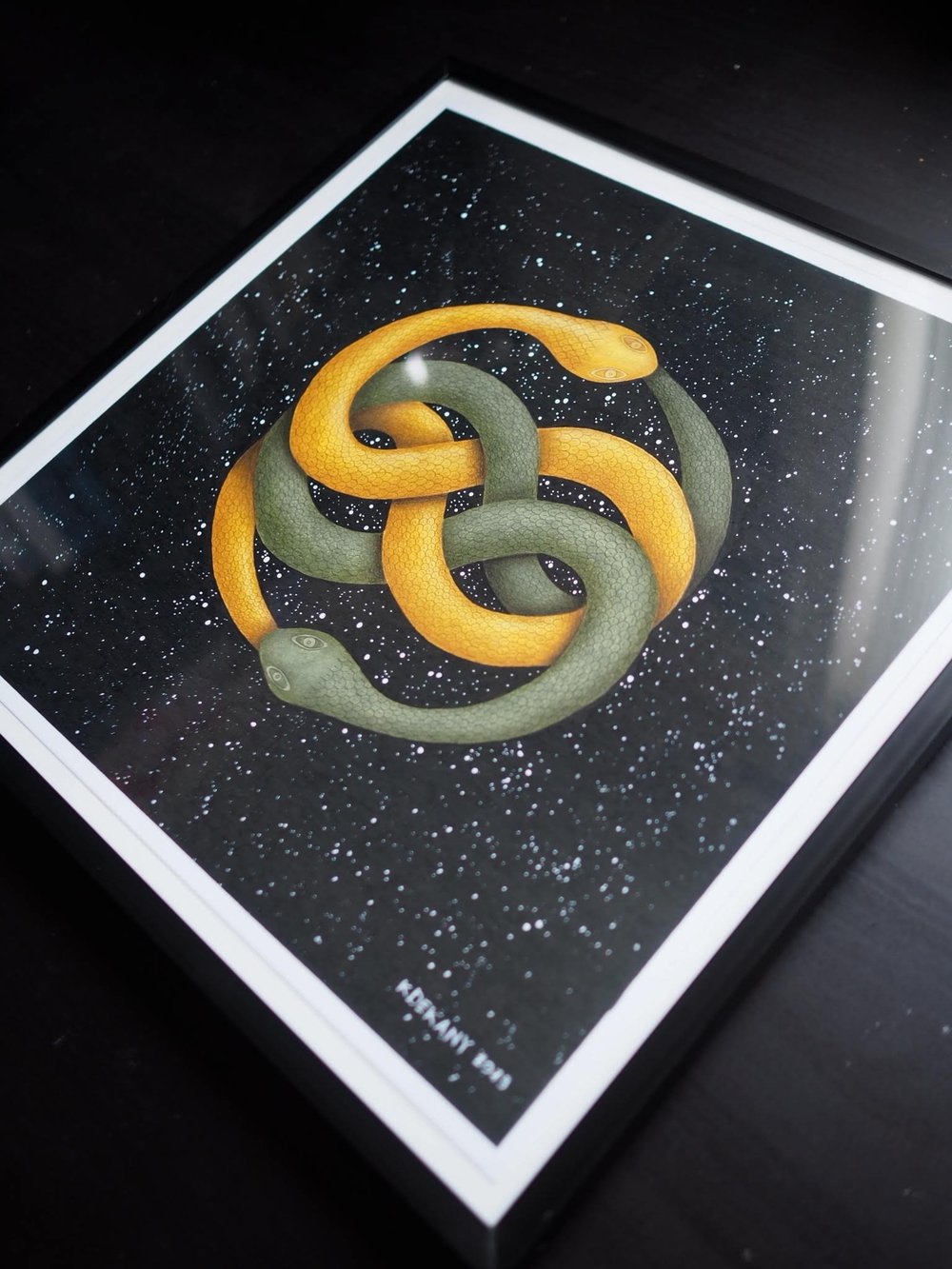 'The Auryn'
"He who wears the Auryn speaks for the Empress. It will guide and protect you."
The Neverending Story (German: Die Unendliche Geschichte) is a 1984 West German fantasy film based on the novel of the same name by Michael Ende. It follows a boy who reads a magical book that tells a story of a young warrior whose task is to stop a dark force called the Nothing from engulfing a mystical world.
AURYN is a talisman from the novel Die Unendliche Geschicte (The Neverending Story), also featured in the movie as a mystical necklace referenced as "The Gem - The Glory". A double headed serpent biting its own tail, or two mythological serpents symetrically biting one another's tail form an oval yet are not intertwined, in the book. The ancient symbol of snakes biting each other, or ouroboros, is where AURYN is derived from. Various cultures contain the historical accounts of such a symbol.
'- world-spirit.org'
Brand New 2019 Edition Print.
Exactly the same size as the original drawing 297 x 297 mm / 11.7 x 11.7 in
PRINTS
All prints are the exact reproduction of the original artworks, you can still see the original pencil strokes. They come from a local professional printing company, printed on extra heavyweight 350 g/m2 matte paper with a fine silk touch to make it stand out.
PRINT CARE
To keep your print in its pristine condition it's best to frame it as soon as possible. Once removed from the protective sleeve, please handle at the edges only and try to avoid the ink especially the blacks. Carefully unroll and flatten your print for best results. Once it's framed please keep them away from direct sunlight as they tend to fade that way.
PREPARATION
All prints are printed on demand so please allow 2 weeks maximum to prepare your order for postage. I will of course send them out as soon as possible.
POSTAGE
All orders are sent out in postal tubes due to their sizes and most importantly for protection. This way the prints are compact, easy to post and affordable.
INTERNATIONAL ORDERS
Please allow at least 2 weeks (up to 6 weeks in rare cases) to receive your order. Customers are also responsible for customs costs (Duty Taxes). Please check these before ordering as they vary in each country, also it's illegal to send merchandise items as gifts.
If you have any questions you might also find the answer in my FAQs. If not please feel free to message me.
Thanks for stepping by.